BROWNSBERG
wake up to the sound of the awakening jungle
It is an amazing experience to wake up to the sound of the waterfall and the awakening jungle. On the Brownsberg you can see different types of animals such as; monkeys, reptiles, amphibians, spiders, caimans, turtles and so on! This nature reserve is situated in the Brokopondo district, about 1,5 hour drive from Paramaribo. The climb up by car is about an extra hour. The top is 515 meters high and we drive all the way to the bauxite plateau. The property is located on the top of the mountain as there are the starting points of several tracks, most of which end at waterfalls. We can visit several waterfalls and also have the option to spend the night there! In this trip everything is taken care of, transportation, accommodation, food & drinks and a guide. 
Next tour:
on request

ANIMALS YOU CAN ENCOUNTER ON BROWNSBERG
Dipsas Copei
The Dipsas Copei is a rare and harmless-looking snail eater that looks like any other snail eater until you see its brightly orange head.
Phyllomedusa Tomoptema
It is a large green frog with scattered white spots, orange groin and inner surfaces of the limbs with purple stripes, and a pale orange belly. It has a vertical pupil, smooth dorsal skin, expanded discs in the fingers and an absent membrane between the toes.
2 or 3 persons
2 days – €415
3 days – €495
4 days – €595
4 persons and up
2 days – €265
3 days – €325
4 days – €395
Transportation

Professional guide

Breakfast, lunch and dinner

 Snacks and drinks (only non – alcoholic)

 Entrance fee Brownsberg
Not included in the price
 Alcoholic drinks

Medical, travel and cancellation insurance

Lunch on the first day and dinner on the last day.


 Personal expenses, meals, and drinks other than those offered.

Optional activities and tips.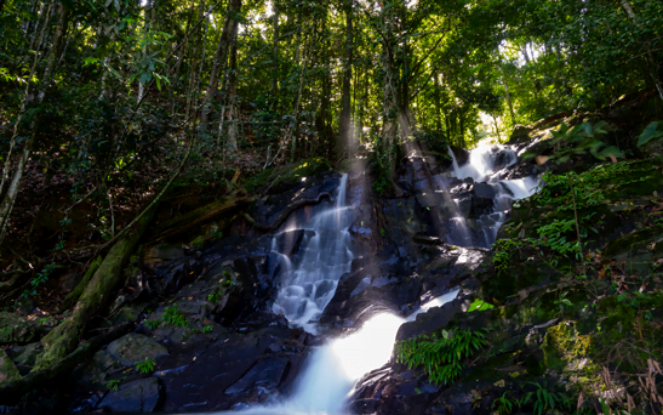 Come and experience the
Suriname Jungle
Unlock Nature provides professional guided jungle tours in the Suriname wilderness.
Book your tour or expedition today for an unforgettable adventure. Copyright © Unlock Nature 2023. All right reserved.