BRAAMSPUNT
BECAUSE WE ALL LOVE TURTLES!
Braamspunt is a sand strip situated in the north of Suriname where the 2 rivers, Commewijne and Suriname river, merge together.
Together with the guide you will search for turtles who are coming out of the Atlantic Ocean and finding a place on the beach to lay their eggs.
This process is something wonderful to see! 
 
Next tour:
on request

From the pier Leonsberg at Northern Paramaribo, we leave at 17.00 hour by boat. The boat ride will take between one and two hours depending on the tides. During the boat ride you will see Guiana estuarine dolphins and if you are lucky even the scarlet Ibis!
When arriving at Braamspunt you can watch the turtles come onto the beach and lay their eggs, wander around at the beach and enjoy the sunset.
Please don't wear any light closing and when bringing a torch, make sure it has red light!
ANIMALS YOU CAN ENCOUNTER AT BRAAMSPUNT
Leatherback turtle
The northern coast of Suriname is one of the best places in the world to view the largest turtle, the marine Leatherback. Leatherbacks have a one-of-a-kind natural history. This critically endangered reptile is the only species left in its family of Dermochelyidae. Unlike other marine turtles, it does not have a proper shell; rather a carapace, which is connected directly to the rest of its body. They feed almost solely on jelly fish and travel further than any other marine turtle, across entire oceans, migrating annually for food and to lay their eggs, and prove unafraid to enter the cold waters of Norway or Chile. They also hold the record for the deepest dive of marine turtles, plunging to depths of 1,200 meters to feed.
Transport
Professional guide

Snacks and drinks (non-alcoholic)
Not included in the price
Medical insurance, travel insurance, or cancellation insurance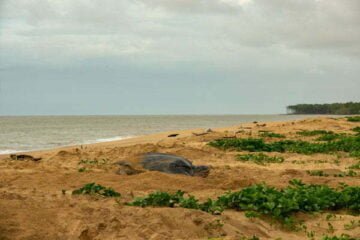 Come and experience the
Suriname Jungle
Unlock Nature provides professional guided jungle tours in the Suriname wilderness.
Book your tour or expedition today for an unforgettable adventure. Copyright © Unlock Nature 2023. All right reserved.