SELIBA
GLAMPING IN THE JUNGLE
Glamping in the jungle next to the Suriname river. The perfect combination of relaxation and adventure. The experience of Seliba includes amazing food,
adventurous jungle trips and activities on the river! You will camp in luxury tents in which you can really relax. Our wildlife guide will be there for you and can show you all that Seliba has to offer. 




Next tour:
On request
In the morning we will leave the city and head to Ayo. From here we will get on a boat and head to Seliba! We will make a stop at the Jew's Savannah where a guide will give us a very interesting tour about the history of the Jews in Suriname. After that, we will continue our boat ride to Seliba. When we arrive, there will be no obligations. You can do whatever you'd like. Whether it's supping on the river, take a dive in the pool or just relax!
Later this day we will go for a hike. A guide will take us in the jungle and we are hoping to see some animals! After dinner we can do either go for a hike, sit at the campfire, relax in the hot tub, play games at the lounge etc.
You will wake up with the sounds of monkeys and birds! Seliba has a lot of rare birds which you can see up close. Before and/or after a delicious breakfast you can go for a hike. In between you can go for a swim or anything you like.
After lunch on the last day (day 2 or 3) we will leave this magical plac We first take the boat to Ayo again and then drive to Paramaribo.

Lodging
Glamping – luxurious tent
2 OR 3 PERSONS
2 days – €375
3 days – €475
4 PERSONS and up
2 days – €275
3 days – €375
Accommodation (tipi tent for 2 persons with a bed)
Transport
Professional wildlife guide
Breakfast, lunch and diner
Snacks and drinks (non-alcoholic)
Hot tub, pool and sup boards 
Camp fire
Hammock
Not included in the price
Breakfast on the first day of the tour and dinner on the day of departure.
Medical insurance, travel insurance, or cancellation insurance
Equipment for personal use such as backpack etc.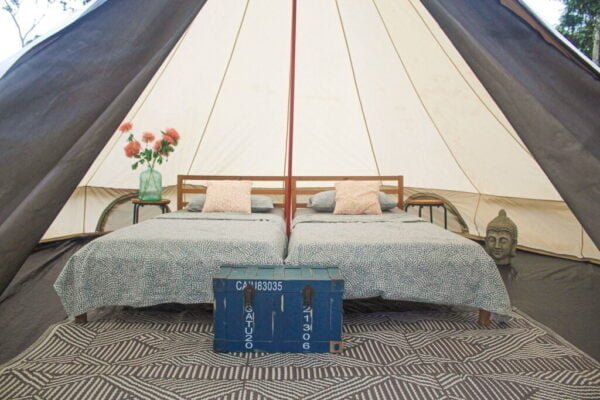 Come and experience the
Suriname Jungle
Unlock Nature provides professional guided jungle tours in the Suriname wilderness.
Book your tour or expedition today for an unforgettable adventure. Copyright © Unlock Nature 2023. All right reserved.